Swedish in-house classes at Verisure
Verisure is a large provider of professionally monitored security solutions. The company has more than 4.5 million customers in 17 countries across Europe and Latin America. It integrates product development, design and sales with installation, service and professional monitoring solutions. The Verisure group has grown to be the second largest home alarm provider in the world.
I have been teaching Swedish, on different levels, to employees at this international corporation for over 3 years' time. Together with the HR staff we have structured the courses, and adapted the hours and pace, to the wishes of the participants. Small groups and different levels give the participants the possibility of using and practicing the language extensively. At times, we have offered hybrid classes, with classes both in-house in combination with online ones. Initially classes were also given one-to-one when asked for.
Project in collaboration with
Verisure Innovation, Malmö
One-to-one Swedish classes in-house at Yara International
Yara International is a leading crop nutrition company and a provider of environmental and agricultural solutions. It produces, distributes, and sells mineral fertilizers and related industrial products. Yara is a Norwegian company, which operates in over 60 countries all over the world, with over 17.000 employees.
I gave private classes, one-to-one, to international employees at this company, and tailor-made them to suit the requirements of the individual employee. Focus of the classes was interaction and using Swedish in day-to-day situations. However, all aspects of the language was taken into consideration, i.e. writing as well as reading, speaking, listening and grammar. We also had several talks on Swedish culture & traditions.
Project in collaboration with
Yara International, Malmö 
Swedish classes at Medborgarskolan
Medborgarskolan is a study association that offers a broad range of adult education all over Sweden. Focusing on 'folkbildning', the Swedish term for popular adult education, Medborgarskolan gives people of all ages and backgrounds the opportunity to develop together with others and to seek new knowledge.
Small groups of learners, at different levels, took part in Swedish language classes arranged by Medborgarskolan on different occasions. Classes are taught according to the Common European Framework of Reference for Languages (CEFR) including learning, teaching and assessment. It is an international standard describing language ability, and levels are set from A1 – C2. I taught classes from levels A1 (beginners) to C1 (advanced) during several semesters, often twice a week.
Project in collaboration with
Swedish language classes at Folkuniversitetet
Folkuniversitetet is an adult educational association that offers a wide range of adult education all over Sweden. Folkuniversitetet is an association of five foundations: the extra-mural departments attached to the Universities of Stockholm, Uppsala, Göteborg, Lund and Umeå. Folkuniversitetet runs numerous internationally oriented activities such as language courses, courses abroad and projects with an international emphasis.
During several semesters, I taught Swedish as a foreign language to immigrants. Levels covered were everything from A1 – C1 according to the common European framework CEFR, but also included SFI, i.e. 'Swedish for Immigrants'. Swedish for immigrants is the national free Swedish language course offered to most categories of immigrants. All persons who have immigrated to Sweden are entitled by law to Swedish language education. The CEFR system was used and taught in parallel with the SFI system depending on which target group it was offered to.
Project in collaboration with
Folkuniversitetet, Kristianstad, Hässleholm, Lund & Malmö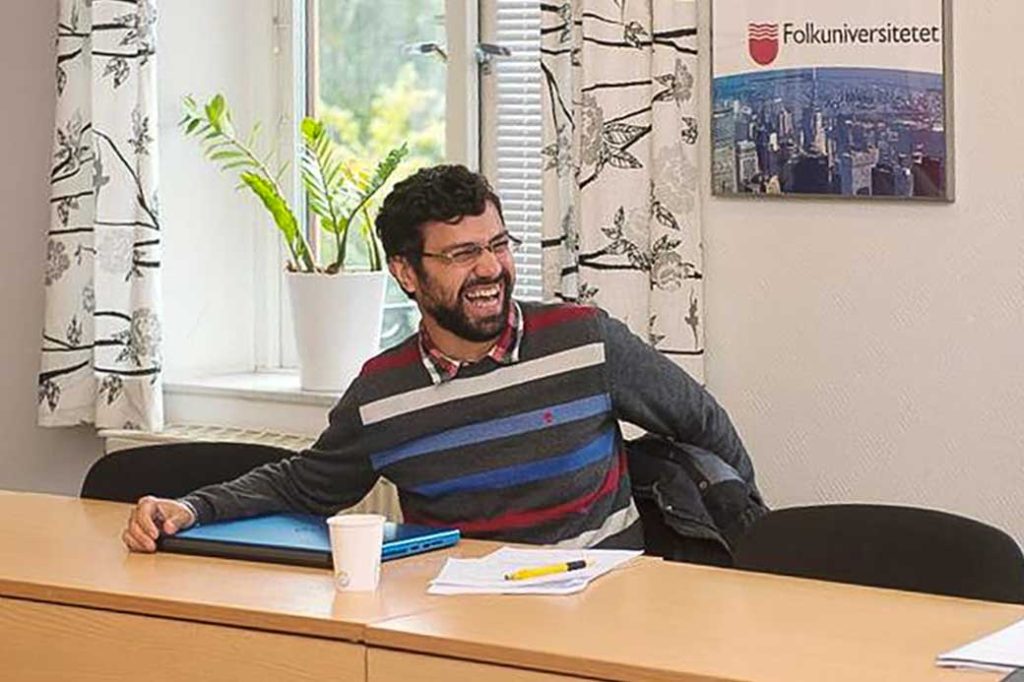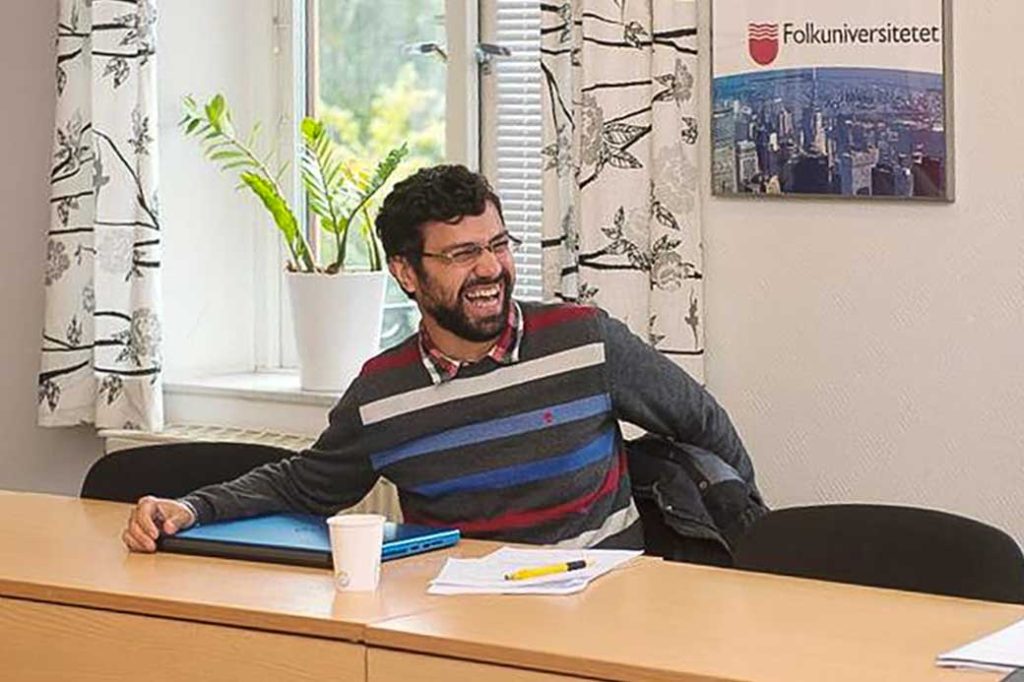 'Korta vägen' at Folkuniversitetet
'Korta vägen' is a special initiative from the Swedish government targeting and supporting foreign academics trying to get in to the Swedish labour market. It aims to help them get the tools necessary to do so. 'Korta vägen' is normally a 6-month-long full-time program, which can be taken either as a general program, or as a specialised one. The specialised groups can for instance be medical staff, technical professions or educational staff.
I taught Swedish as a foreign language within the program, as well as culture & information about the society. In Kristianstad, where it started I and a colleague structured and developed the program, and here the focus group was general academics. After about a year, I moved on to 'Korta vägen' in Lund, where the focus group was medical staff; doctors, nurses and dentists. I developed the Swedish language taught to them so that it would be better adapted to their level. Also so they could pass the necessary Swedish language tests to be able to continue working within their field in Sweden. I taught Swedish as a foreign language to them, level SVA3 (Svenska som andraspråk 3) and helped them pass the national test after approximately 6 months. They could then move on to the specific medical board tests.
Project in collaboration with
Folkuniversitetet, Kristianstad & Lund